AUSSIE GUN SAFES.

All Australian made safes, suitable for Rifle, Pistol, Shotgun, ammunition, rifle bolts and many other valuables.
Built from heavy gauge 6mm steel. All safes meet the demanding, category "H" (Pistol) specs and that includes the rifle safe!
Our Pistol safe has a 6 lever locking system. The rifle has 3 point locking.
The safes are fitted with "Jackson's" locks and come with two keys.
All safes are ready drilled for easy mounting and all are finished with two coats of tough, "Hammer tone" enamel paint.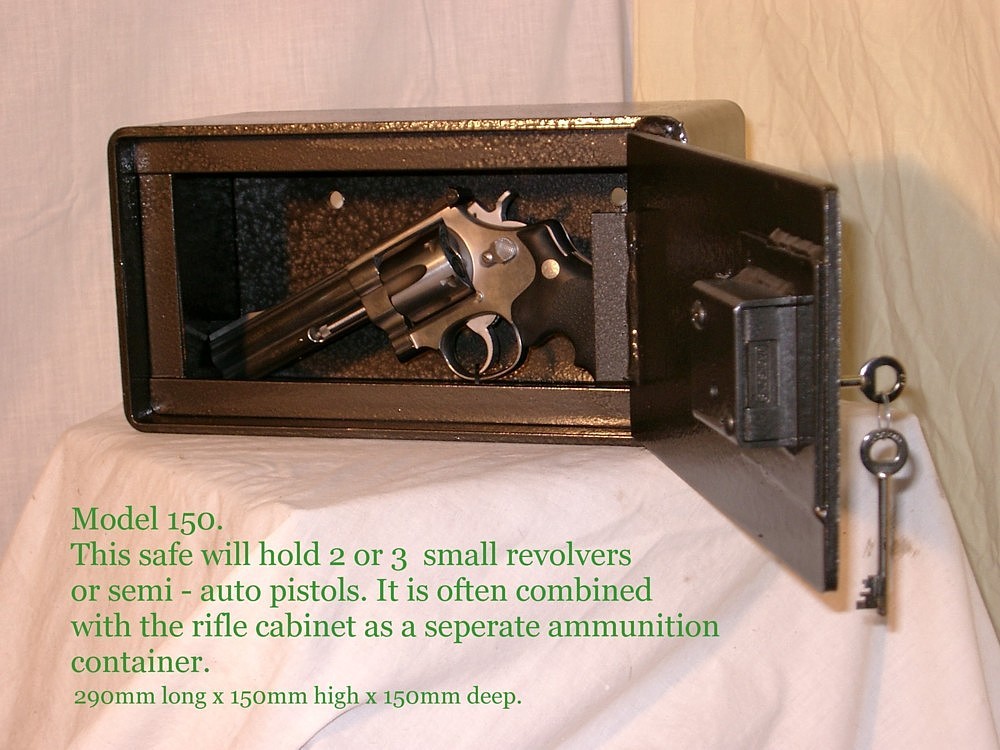 $295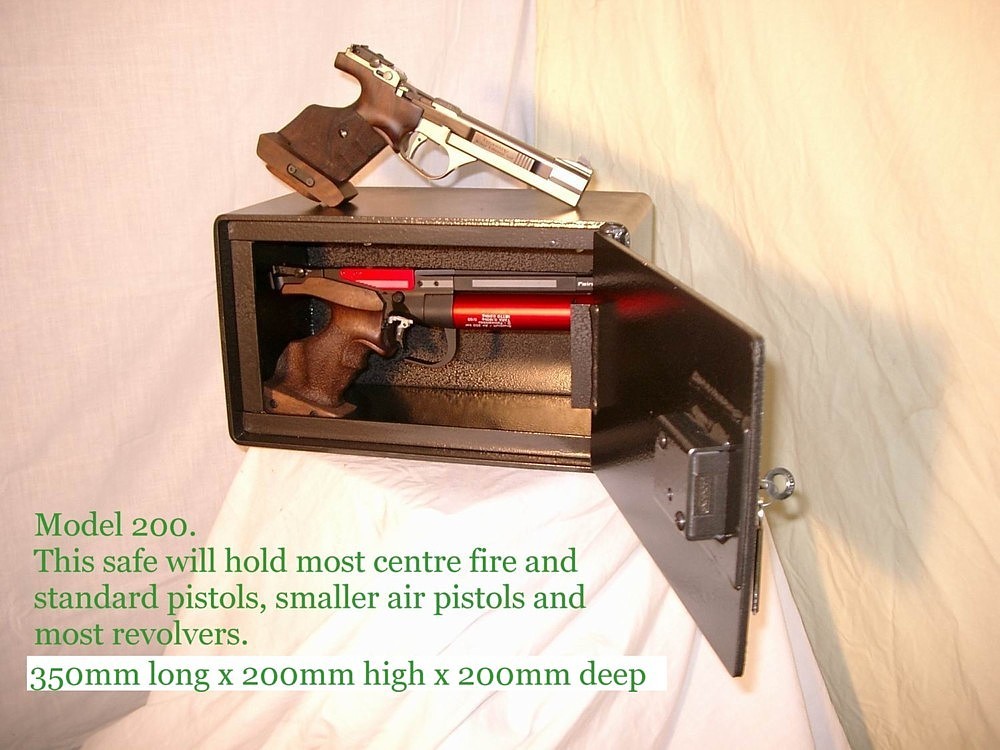 $395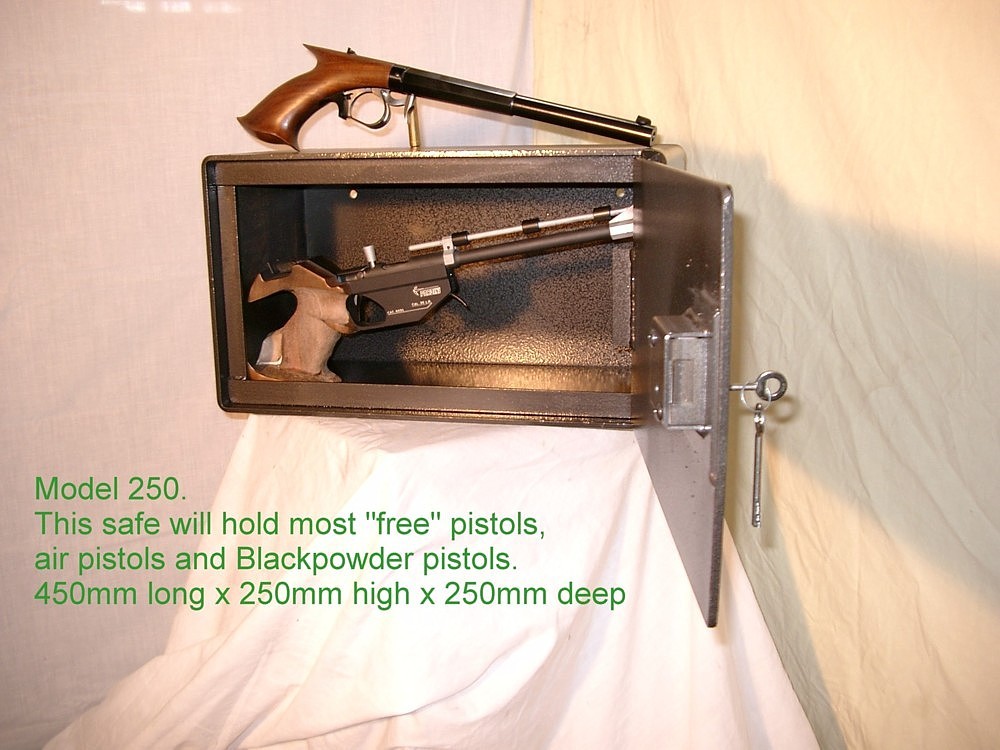 $495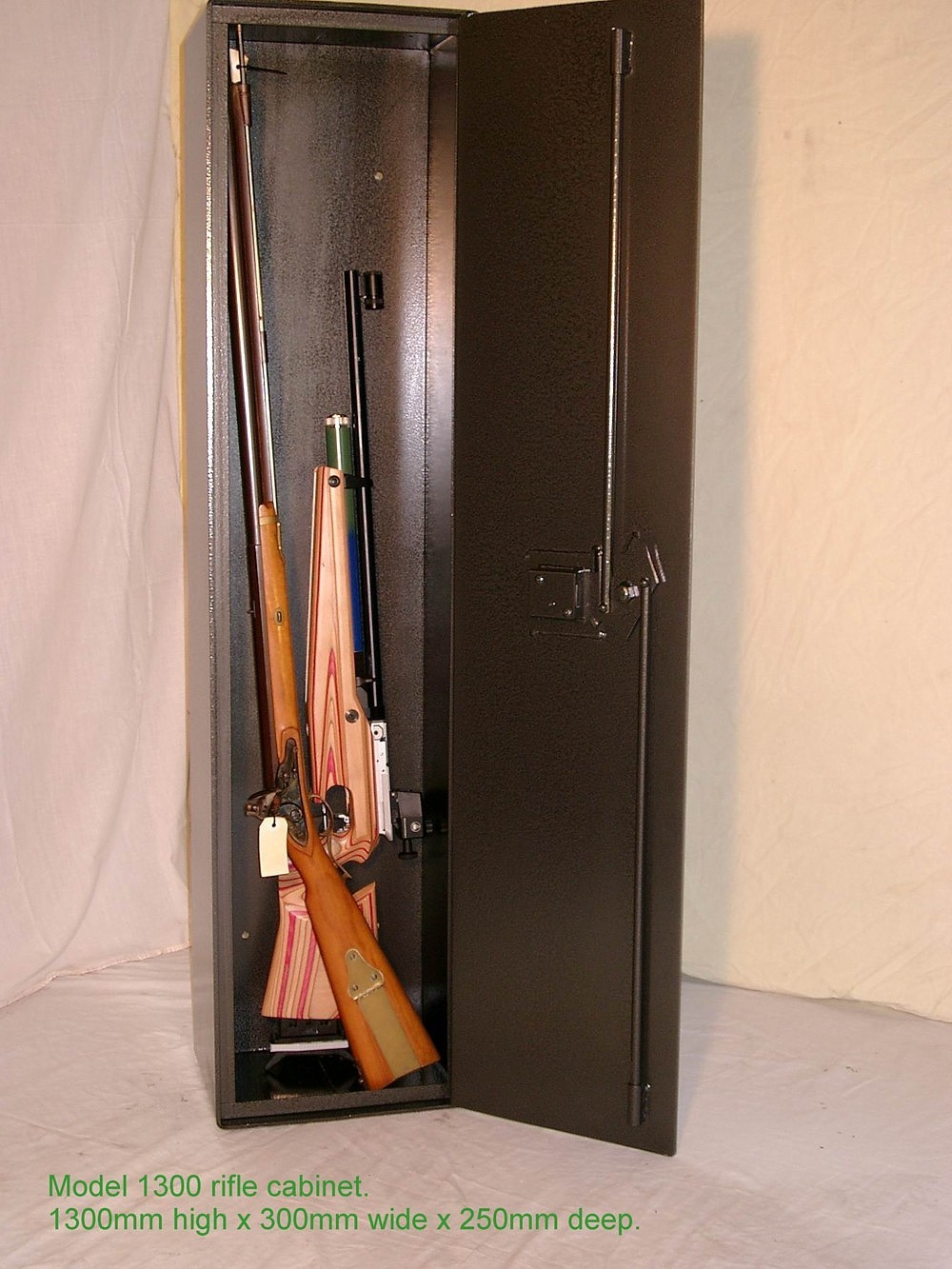 $795
(Not including delivery)
Great for rifles but if you add your own shelves
you could store an awful lot of pistols!

Price includes freight (Models 150, 200 only) to any Sydney metropolitan
and some NSW country addresses!
For deliveries outside Sydney & NSW, (Models 250 & 1300) charges will need to be
calculated and applied. (sorry)
The Technical Nitty Gritty.
All safes meet the requirements for category A, B, C & H (including the Rifle Cabinet.) Safes are manufactured and designed to comply with the strict requirements and specifications as set by the New South Wales Firearms Registry. Manufactured from heavy gauge 6mm steel, "Jackson's" 6 lever locking system, drill resistant plate under the lock, lock support strap, recessed door
and back and a "dogging" bracket welded to the door means peace of mind for you. Safes are pre-drilled with 4-6 holes
for easy mounting and supplied with 2 keys and come finished in two coats of tough "Hammer Tone" enamel paint.
They deliver to all parts of NSW and the ACT and currently manufacture 3 standard Pistol Safes
and 1 Rifle Cabinet that can be used for pistols as well.
Model 150 Pistol Safe (small) – 150mm high x 159mm wide x 290mm long 12kgs
Model 200 Pistol Safe (medium) – 200mm high x 200mm wide x 350mm long 19kgs
Model 250 Pistol Safe (large) – 250mm high x 250mm wide x 450mm long 29kgs
Rifle Cabinet – 1300mm high x 300mm wide x 250mm deep 60kgs
Office Hours
MONDAY TO FRIDAY
9.00 AM - 6.00 PM
PHONE: (02) 99705872
MOB: 0413996795
N.B. I do not respond to SMS
E-Mail
rpg303@bigpond.com




A $10 bank fee is applied to all credit card transactions.

Instructions for Internet and Bank Deposits:


Rifle
Pistol
Shotgun
Collectors and Military
Code Of Ethics And Sales Policy
RPG GUN GRIPS
Books
Gun Clubs
Aussie Gun Safes
Gunstock Services
Game Council of NSW
SRFS Obsolete Reloading Dies
AV BALLISTICS
Obsolete Cartridge Cases

Optics, Reloading & Accessories
Custom Gun Smith & Pyrotechnics

Minnie Revues: "Guns n Goodies!"
The thoughts of chairman Bob
Reel Memories DVD & Video
The Shootists Gallery!
Web Games!
Links
Home
WE HAVE A VOICE!




Keep our sports strong! Keep our sports alive!