BOOKS!
Reproductions of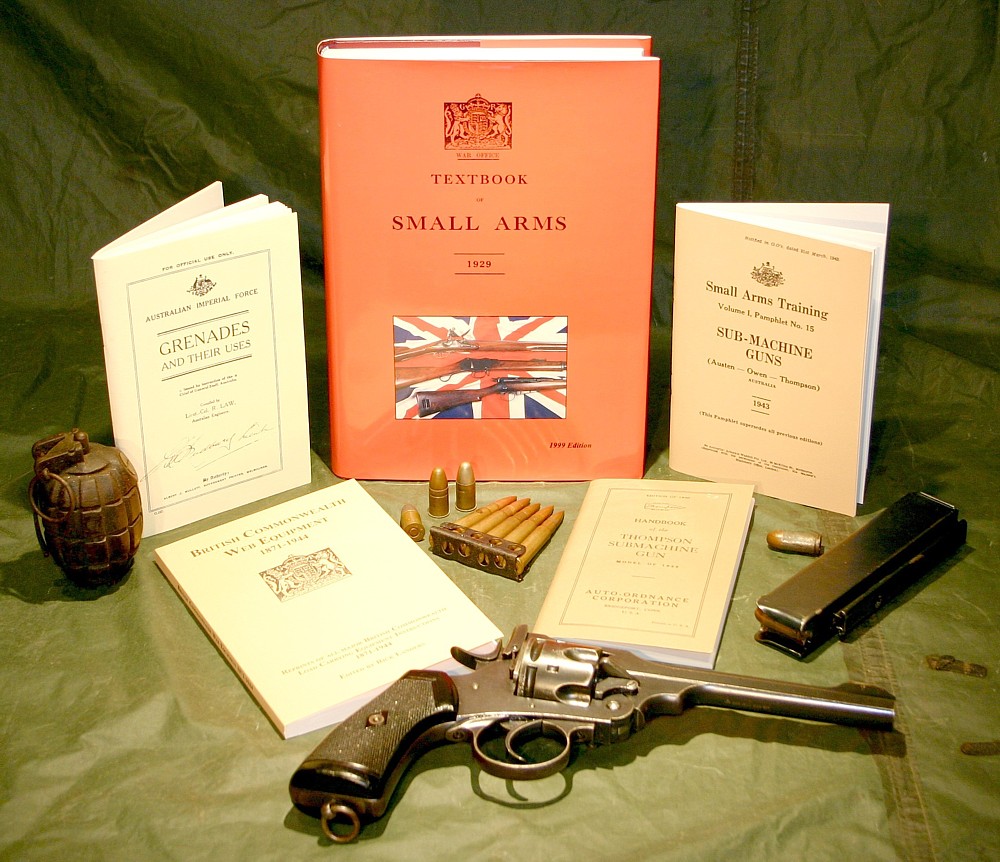 original training manuals.
ALL PRICES INCLUDE POST TO
ANYWHERE IN AUSTRALIA
CLICK ON COVER TO SEE A SMALL
SAMPLE OF WHAT'S INSIDE.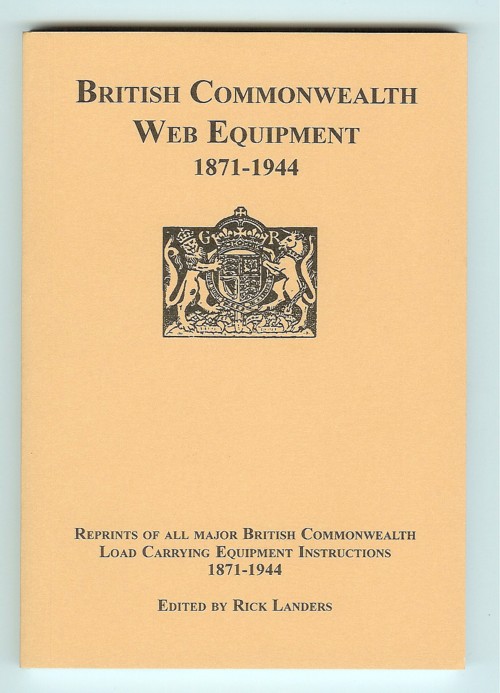 BRITISH COMMONWEALTH
WEB EQUIPMENT
1871-1944
Reprints of all major British Commonwealth
load carrying equipment instructions from 1871-1944
190x130mm, 192 pages, soft cover, over 150 illustrations
all from original official instructions.
$30.00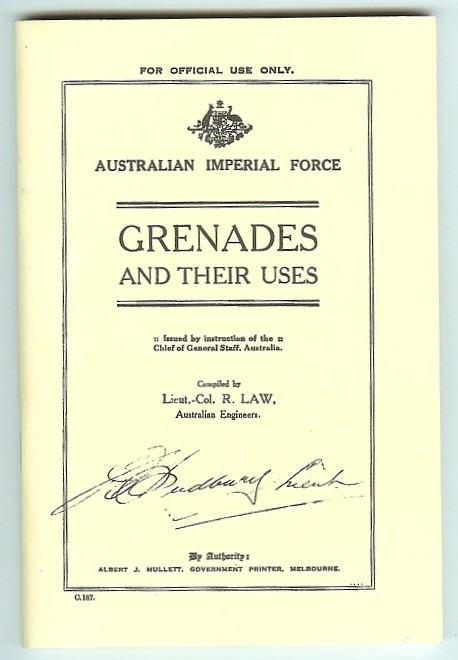 GRENADES
AND THERE USES
Reproduction of rare Australian grenade training
pamphlet prepared in 1916 by Lt Col R Law, Commandant
of the Australian Grenade Training School during WWI.
185x125mm, 112 pages, soft cover, 24 hand drawn sketches
of contemporary grenades, catapults and trench mortars.
$12.00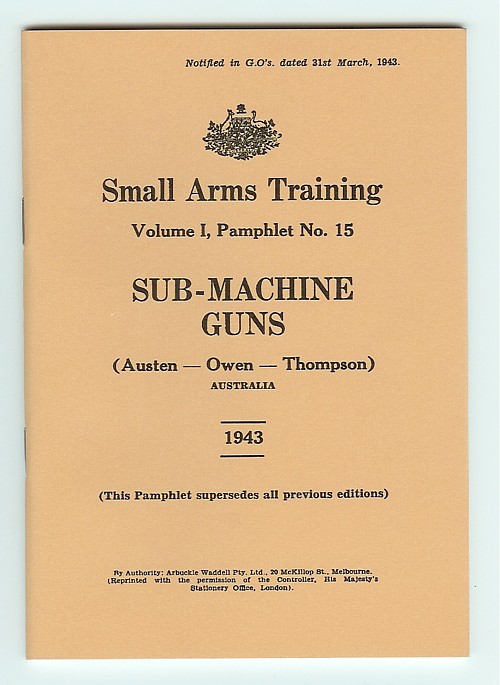 SMALL ARMS TRAINING
Austen-Owen-Thompson
1943
Reproduction of 1943 Australian Army training
pamphlet detailing the Austen, Owen and Thompson
submachine guns in use at that time.
180x125mm, 64 pages, soft cover, many illustrations and
diagrams.
$12.00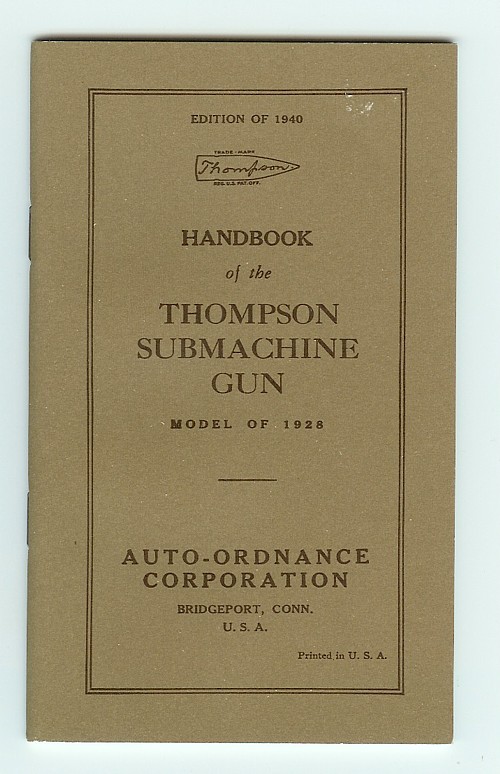 HANDBOOK
Of The
THOMPSON SUBMACHINE GUN
Reproduction of 1940 Thompson user handbook
as issued with all model 1928 Thompson submachine guns.
170x100mm, 58 pages, soft cover, many illustrations and
diagrams.
$12.00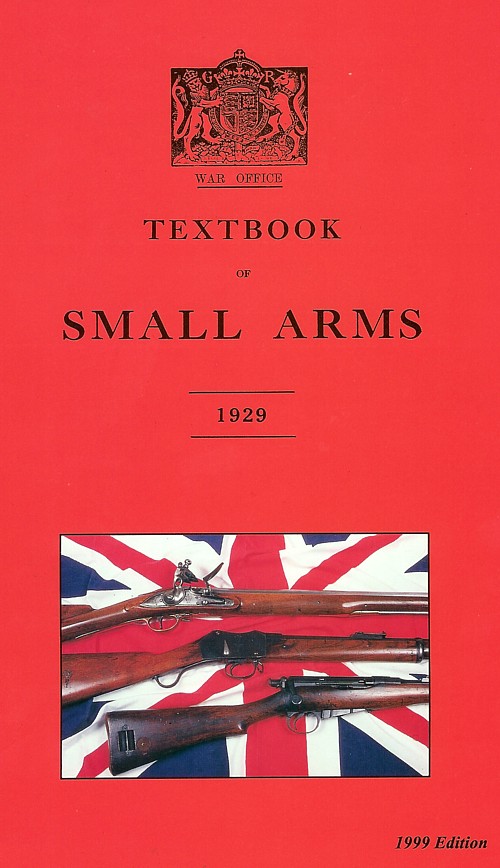 TEXTBOOK
of
SMALL ARMS
1929
Reproduction of 1929 War Office production.
Details rifles, bayonets, hand grenades, machine guns
pistols and ammunition of all major nations at that time.
270x190mm, 425 pages, gold blocked leatherette hard
cover, dust jacket, many illustrations and fold out charts.
$75.00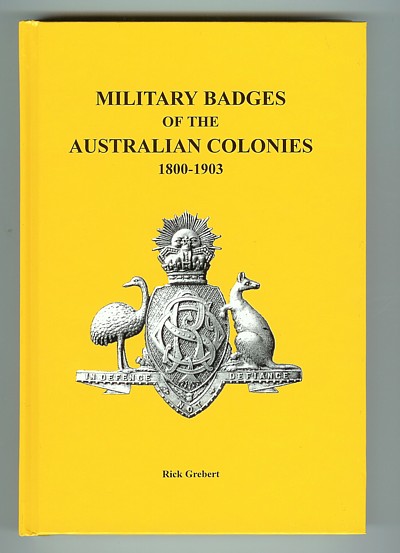 MILITARY BADGES
Of The
AUSTRALIAN COLONIES
1800-1903
Large format photographs and full description of all
known badges of the era covered with contemporary
photographs of the badges in use.
215x145mm, 328 pages, hard cover, over 300 illustrations.
Print run of 500 copies numbered and signed by the author.
$60.00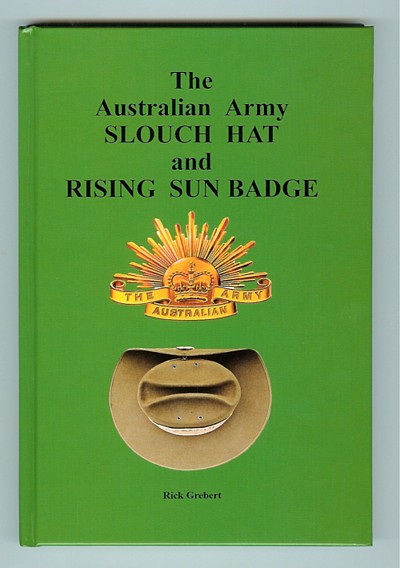 THE AUSTRALIAN ARMY SLOUCH HAT
AND THE RISING SUN BADGE
The definitive history of the seven designs of Rising Sun
Badges and details of the development and manufacturing
process of the famous Australian Digger's Slouch Hat.
215x145mm, 140 pages, hard cover, eight colour plates.
Print run of 750 copies numbered and signed by the author.
$40.00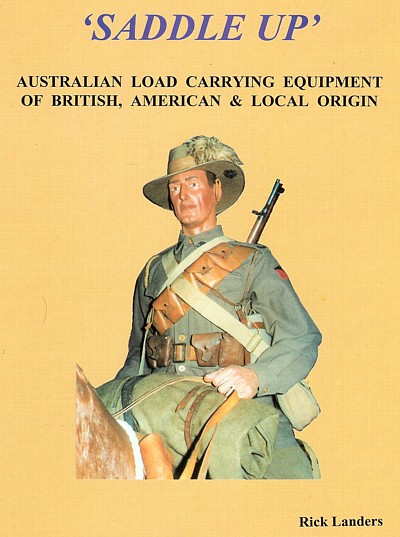 'SADDLE UP'
AUSTRALIAN LOAD CARRYING EQUIPMENT
OF
BRITISH, AMERICAN & LOCAL ORIGIN
Details Australian military load carrying equipment
from 1788-2000. During this period British, Canadian,
US and Australian produced equipment was used.
280x215mm, 128 pages, hard cover, dust jacket, over
250 illustrations including eight pages in colour.
$60.00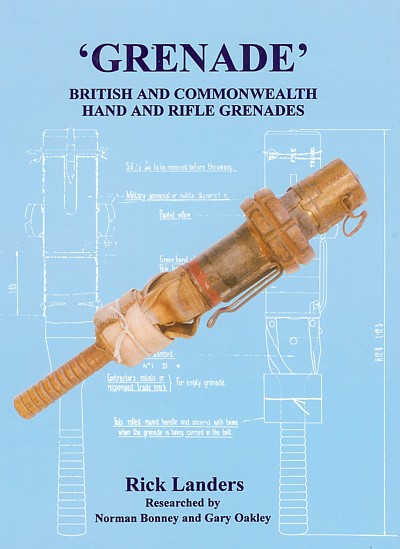 'GRENADE'
BRITISH AND COMMONWEALTH
HAND AND RIFLE GRENADES
The definitive work on British grenades covering all
grenades in Service from 1900-1970. Developmental
information and full technical details are given together
with photographs and sectional drawings.
285x215mm, 300 pages, hard cover, dust jacket, over
700 illustrations and two colour plates.
$99.00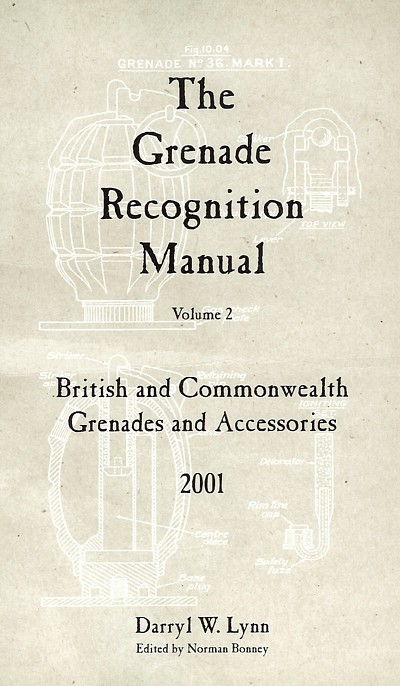 THE GRENADE
RECOGNITION MANUAL
Canadian publication covering all British Commonwealth
Grenades and accessories. 275x215mm, 188 pages,
soft cover, numerous illustrations.
$70.00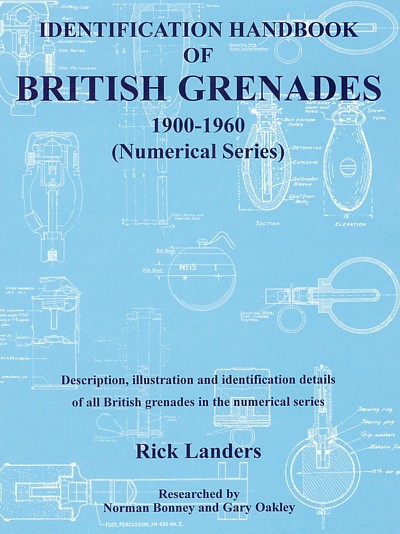 BRITISH GRENADES
1900-1960
Précis of the above book giving full identification
details of all British grenades in the numerical series.
275x210mm, 48 pages soft cover, sewn binding,
all grenades fully illustrated by photo or drawing.
$12.00



ALL PRICES INCLUDE POST TO
ANYWHERE IN AUSTRALIA
PHONE: (02) 99705872
MOB: 0413996795
MONDAY TO FRIDAY
9.00 AM - 6.00 PM
Please do not phone after hours.
E-Mail
rpg303@bigpond.com



A $5 bank fee is applied to all credit card transactions.
Instructions for Internet Deposits:
Rifle
Pistol
Shotgun
Collectors and Military
Sales Policy
RPG GUN GRIPS
Books
Gun Clubs
Aussie Gun Safes
Gunstock Services
Game Council of NSW
SRFS Obsolete Reloading Dies
AV BALLISTICS
Obsolete Cartridge Cases

Optics, Reloading & Accessories
Custom Gun Smith & Pyrotechnics

Minnie Revues: "Guns n Goodies!"
The thoughts of chairman Bob
Reel Memories DVD & Video
The Shootists Gallery!
Web Games!
Links
Home
WE HAVE A VOICE!




Keep our sports strong! Keep our sports alive!