Combination
Trigger Locks.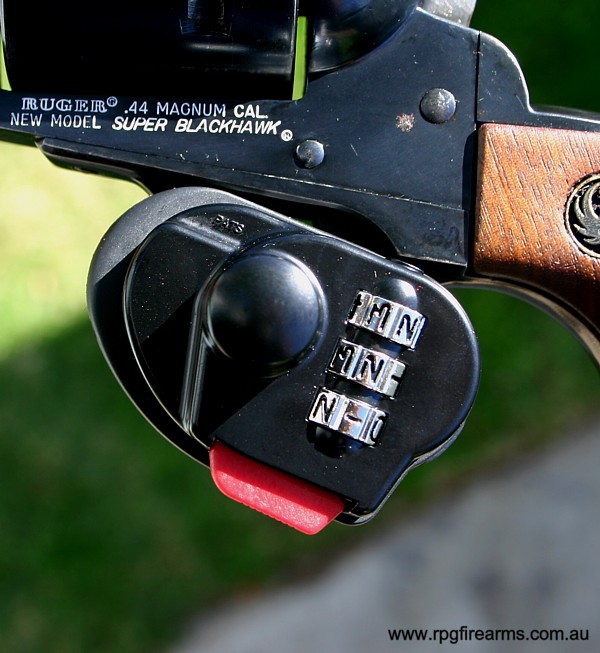 Ruger Super Blackhawk .44 Mag
Ok, be honest, hands up all those who have turned up at the range and went to get the trigger
lock of there gun only to find you've
forgotten or worse, lost the bloody key!
Yep me too, but I did it at a away shoot!
So I spent the weekend sitting in the "Dumb Corner" drawing a pussy cat...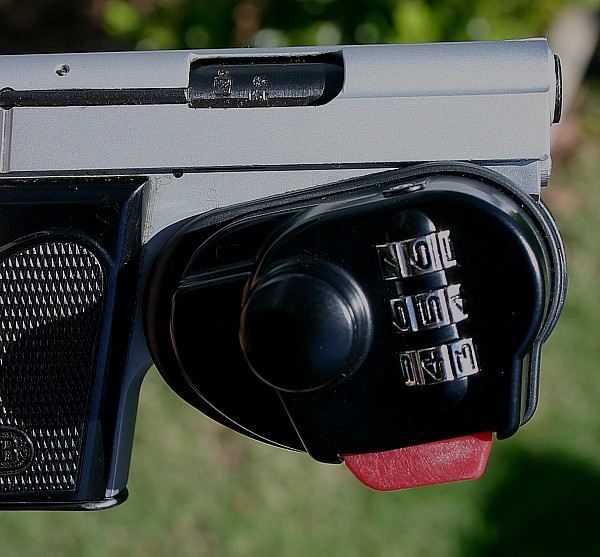 Bernardelli 68 .25 Cal
Fear not fellow thick heads a solution is at hand!
RPG has three digit combination trigger locks
that fit just about every gun there is.
From Ruger to Remington, FWB to Colt
this simple little lock can secure them all.
This is a solidly made US product not a cheep copy!
Solid two piece construction.
3 wheel combination 1000 possible codes.
Easy user combination changes.
Unique pressure sensitive sizing ensures
lock fits tightly into guard.
Rubber padding to prevent scratching.
Easy to follow instructions.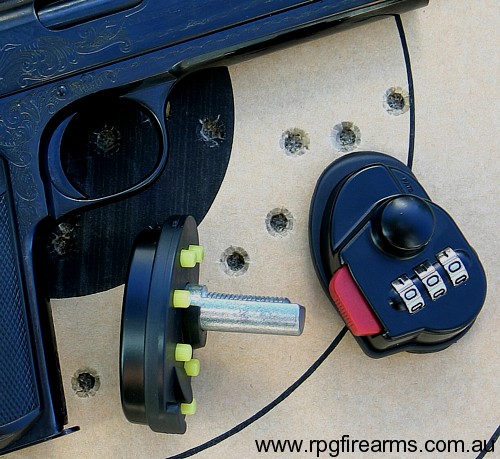 Colt 1903
$29.95ea
Including post to
your door anywhere in Australia.
Now you might think $29.95 for a lock is a bit much
but when you consider the alternative it's well worth it...

PHONE: (02) 99705872
MOB: 0413996795



A $5 bank fee is applied to all credit card transactions. (sorry)
Instructions for Internet Deposits:
Rifle
Pistol
Shotgun
Collectors and Military
Code Of Ethics And Sales Policy
RPG Gun Grips
Books
Gun Clubs
Aussie Gun Safes
Gunstock Services
Game Council of NSW
SRFS Obsolete Reloading Dies
AV BALLISTICS
Obsolete Cartridge Cases

Westcastings Projectiles
Optics, Reloading & Accessories
Custom Gun Smith & Pyrotechnics

Minnie Revues: "Guns n Goodies!"
The thoughts of chairman Bob
Reel Memories DVD & Video
The Shootists Gallery!
Web Games!
Links
Home

WE HAVE A VOICE!




Keep our sports strong! Keep our sports alive!
Shooters & Fishers Party membership Form.