How would you like to be able to see the front and rear sights of your gun and your target, sharply
and clearly all at the same time!?
Well, you could invest in a set of the very good (and expensive) Champion or Knobloch shooting glasses or you could consider a Merit optical attachment...
Now Merit corporation have been around since 1934 and have developed a simple and economical way to make your shooting a whole lot more accurate, competitive and fun!
Now I won't go into the deep dark technicalities of how it works (it allows you to adjust the "focal length" of your shooting eye) but let me give you a layman's review of the product.
The Merit optical attachment and it's instructions comes in a 'nifty' little plastic box about 3cm square, 1 inch in the old money.
On examination, the merit appears to be a solid little device of good quality and simple design.
To use it, one merely moistens the suction cup and presses it onto your glasses. Adjustment of the iris shutter is achieved by turning the knurled ring to the left or right until your sight picture is sharp and in focus. Easy!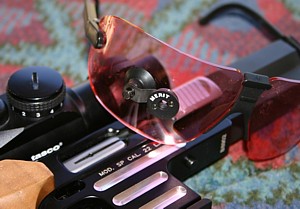 I first tried some slow fire with my Pardini SP and found the results to be very satisfying the Merit did what it was supposed to do, the target and sights were all in clear, sharp focus despite my 52 year old eyes!
I attached a Tasco "Propoint" and found I had a crisp, bright dot and image in the tube.
I then tried some rifle shooting using a very elderly Vickers Martini "Miniature" target rifle and a Sportco Model 40 over a rest with Winchester "Supreme" .22 ammo.
I chose these two guns for the test as there sights represent a 'fairish' cross section of the type of non magnifying sights most shooters would be using.
The Sportco uses simple front blade with bead and V notch and the Vickers a front ring and rear aperture.
I started with the Sportco.
I adjusted the position of the Merit on my glasses and fired five rounds then removed the device and fired another five for comparison.
It was now time to see what damage I could do with the Vickers Martini.
I removed the original rear peep sight from the Vickers and screwed in a "Merit Target Disc" and adjusted the iris shutter and fired five shots...
See below for the results...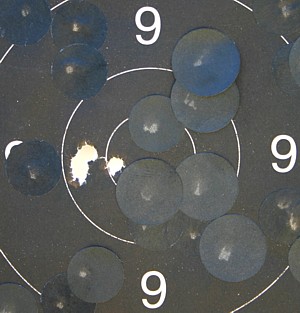 Vickers Martini 50m Sportco 50m

I found that on both occasions I was concentrating more on my breathing and trigger control than on sighting, Interestingly the Sportco shot higher with the Merit than without however the group was tighter with the exception of a single called flyer.
The Vickers Martini was dead on, even for a very old gun!
I then set up some silhouettes and the results were very satisfying indeed!
The Chickens, Pigs, Turkeys and Rams never looked clearer or flew higher!
I normally score in the high twenties, low thirties, this time I shot thirty eight out of forty with only two Turkeys surviving.
It's probably a case of, "More-ass-than-class" but still, roll on the next club championship...
I used only .22 cal guns in this test but I would expect similar results with any centerfire rifle or pistol.
I could see the target disk going very well on a Winchester lever action or a black powder gun or on any fire arm that takes a tang or target rear sight for that matter.
When properly set up a Merit removes the "fuzz" from around a target and gives the shooter a sharp, clear image of sights and the thing your aiming at all at the same time!
It can be attached to almost any kind of glasses, from cheep sunnies from the local garage to quality prescription spectacles etc.
There's no two ways about it, the Merit optical attachments do work, they're well made and should last a lifetime with minimal care and to be honest, they can be the difference between a hit and a miss, 1st, 2d or zilch...

Bottom Line:
I sell the Merit Optical Attachment for---$95
and the Target Disc for---$75
This includes postage to anywhere in Australia.
A $5 bank fee is applied to credit card transactions. (sorry)
Office Hours
MONDAY TO FRIDAY
9.00 AM - 6.00 PM
PLEASE DO NOT PHONE AFTER HOURS
OR ON WEEKENDS.
PHONE: (02) 99705872
MOB: 0413996795
N.B. I do not respond to SMS
E-Mail
rpg303@bigpond.com



A $5 bank fee is applied to all credit card transactions.
Instructions for Internet Deposits: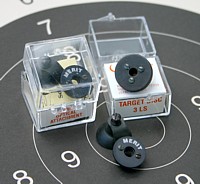 Rifle
Pistol
Shotgun
Collectors and Military
Code Of Ethics And Sales Policy
RPG Gun Grips
Books
Gun Clubs
Aussie Gun Safes
Gunstock Services
Game Council of NSW
SRFS Obsolete Reloading Dies
AV BALLISTICS
Obsolete Cartridge Cases

Optics, Reloading & Accessories
Custom Gun Smith & Pyrotechnics

Minnie Revues: "Guns n Goodies!"
The thoughts of chairman Bob
Reel Memories DVD & Video
The Shootists Gallery!
Web Games!
Links
Home

WE HAVE A VOICE!




Keep our sports strong! Keep our sports alive!
Shooters & Fishers Party membership Form.