THE HS2000
A REVUE BY
David Power.
PBA Imports have commenced the importation of the Croatian made HS2000. This pistol is virtually the same as the Springfield XD that has been well accepted by American Shooters. The case that the HS2000 arrives in even has "SA" on the top of it.
First a few Specs.
Calibre : 9x19mm (Luger)
Operation :Short Recoil, Locked Breech Mechanism, Self Loading, Safety Locked Action
Pistol Weight (Empty) :750grams
Magazine Weight (Empty) : 90grams
Magazine Capacity ( : 10 Rounds
Length (Overall) :180mm
Barrel Length : 127mm
Height : 139mm

For law enforcement there are other calibres available and also shorter barrel lengths.

The first thing you notice when picking up the pistol is the weight. A little heavier than expected but feels good in the hands. Obviously most people will say that this is a Glock copy and in some ways it is, like the polymer
lower and the steel upper, but the HS2000 has other features as well.
The HS2000 has 4 redundant safeties, A grip safety, trigger safety, firing pin (drop) safety and an out of battery safety. All these make for what is a very safe gun. The slide for example cannot be moved if you don't have your hand on the grip safety.
Other features include Drop Free Magazine, Ambidextrous Mag Release, Trigger Safety, Grooved Trigger Guard, Accessory Rail, Low Profile Front and rear Dovetail Sights with white dots (not luminous), Loaded Chamber Indicator, Firing Pin Status Indicator and a Thumb Rest. It is a fully featured pistol. The pistol comes in a plastic case and houses the pistol, oil bottle (empty so you can put what ever oil in it you like), 2 magazines ( though I have been told 4 mags will come with future pistols) a cleaning rod to pull cloth through and instructions. One thing with the instruction manual is that its not translated very well and when dismantling the pistol it doesn't tell you that you have to pull the trigger when sliding the slide forward. A small oversight that will be rectified I believe.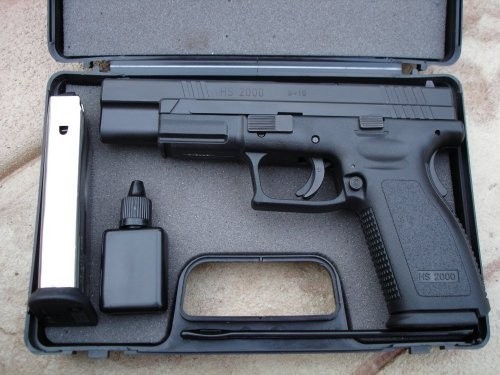 I took my new pistol for a test run to check it out and was pleasantly surprised. I used 115 grain PMC factory loads to run through it and it is a very flat shooting pistol. Have a look at the video and there is hardly any jump at all. I also don't think that the PMC has the required "grunt" for this pistol to achieve its potential. I will be playing with reloads and projectile size later.
My groups were shooting low but again I think that is my fault as I am getting use to the sights and I have noticed that the groups are coming up the more that I shoot it. All groups that I have shot all came with in the 100mm X 90mm size which is approx the size of a 10 ring on a service target. I think also which practice and the right ammo that these groups will decrease in size.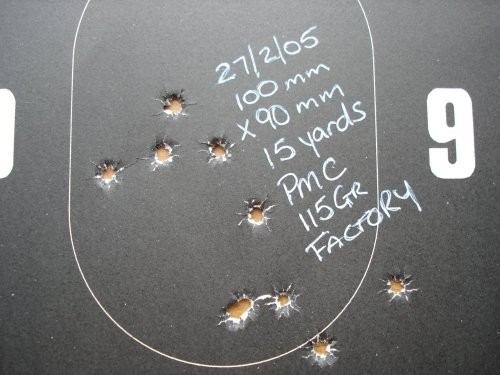 The ejected brass seemed to like my shirt front as several kept hitting it but most brass was ejected to the right side. 9mm is not easy to find in even short grass as you are probably all aware. Loading the mags tested the strength of my thumbs. The first few rounds were easy but from round 6 onwards you knew your thumbs were working. The last round was hard to get it but not impossible. The magazines also drop very freely from the pistol and the ambi mag release is great and the mag button is easy to locate and operate with both your thumb and trigger finger ( use whichever finger you like).
The trigger is very easy to get use to. There is approx 5 mm of take up till you feel it stop and then its approx 5 to 6 pounds of pull to release. It may even be less than the poundage stated, I didn't measure it but that is what it feels like. The trigger is very smooth.
Disassembly is extremely easy. Remove mag, rack to open position and lock in place, rotate take down lever clockwise 90 deg, unlock slide and move forward, pull trigger and slide the slide forward. This allows access to the internals for cleaning and oiling. Very simple.
Also this pistol is yet to be passed to shoot in IPSC due to its single action trigger but I think that is being looked into by Vince later this month.
If you want to see the video of the pistol in action go to,,,,
http://home.exetel.com.au/power/HS2000firstshots.MPG
Its approx 1.35MB in size so be warned but it does show how little recoil this thing has. If you have any problems downloading drop me a PM and I will email it to you.
Hope this small review has been of some interest. Any errors are regretted but I have tried my best. Also in closing I may add that I am NOT sponsored by PBA Imports or HS2000. I did this simply to inform shooters of a new pistol on the block, so to speak.
David Power